Where I live, in fact throughout most of the US, manufactured housing is very common. Although usually called mobile homes, they really aren't very mobile. The homes are manufactured off-site and transported by special trucks to the home site. Some of these homes are installed on private property, but the majority are set up on small lot parcels in mobile home parks.  From there, they are pretty permanent, with only about 5% of them ever being moved again.
The home sits off the ground, supported by a series of jacks that keeps it level and the open area underneath houses the plumbing and power lines.  The most common sizes are single-wide and double-wide, although triple size is gaining in popularity.  The single wide is usually 12 or 14 feet wide by as much as 70 feet long, although most are 60 feet or less.
The Task
Your task is to build a single-wide mobile home measuring 5 x 18 on a lot measuring 15 x 20. You can use a larger lot, but are only allowed to use a parcel of it measuring 15 x 20.  You cannot build either down or up -- it must all be contained on one level.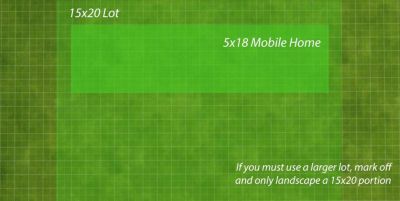 The Rules
Max 10 pictures per entry. You may link to more in an album

Pictures may be no more than 800 pixels wide

Doors, windows and walls can be placed wherever you want them, but the house must include at least a livingroom, kitchen/dining area, bathroom and bedroom.  You can decorate the outside however you choose as long as you stay within your lot.

State which game you are using. TS2, TS3, TS4

Have fun: Remember this is a challenge not a contest

The forum's Challenge & Contest Rules also apply

Remember to add
in your post if you want detailed feedback on what works and what doesn't.
This challenge will close:  Feb. 11, 2015